Low Dose Naltrexone Provider Event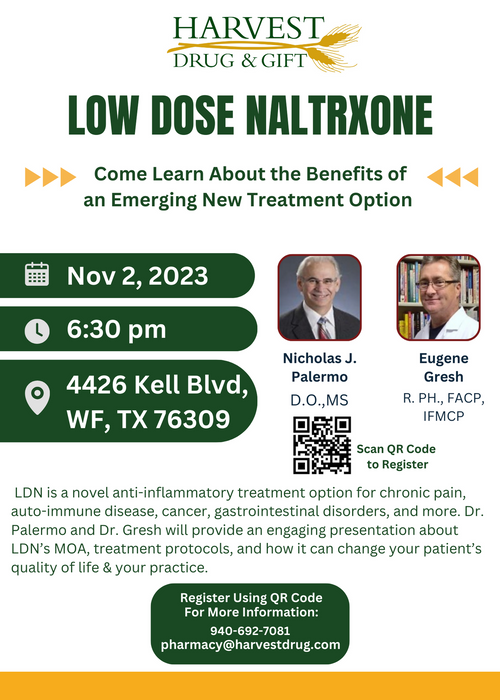 Location: Harvest Drug & Gift - 4426 Kell Blvd, Wichita Falls,Texas 76309
Time: 6:30 p.m.
This event is open to all Medical Doctors, Nurse Practitioners, Physician Assistants, Nurses, and Office Staff interested in learning more about Low Dose Naltrexone.
Refreshments Provided
Space is limited - Sign up Now to Reserve your Seat!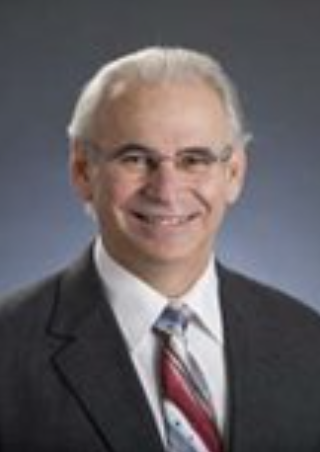 Nicholas J. Palermo, D.O.,MS.
Dr. Palermo received his BS degree from Norwich University in Vermont and his MS degree from Georgetown University in Washington, DC while working at the Walter Reed Army Medical Center as Chief Electron Microscopist for the Skeletal Muscle Branch of the Armed Forces Institute of Pathology, and received his DO degree from The College of Osteopathic Medicine and Surgery in Des Moines, Iowa. He also served as a Captain in the United States Army Medical Service Corps at Fort Sam Houston Texas as Chief of Electron and Dark field Microscopy.
Dr. Palermo is board certified in family medicine and has been in active family practice for over 45 years. He is on the active community staff of the Eastern Connecticut Health Network which includes Manchester Memorial and Rockville General Hospitals. In addition to his traditional medical education he is a graduate of the Massachusetts Society of Bioenergetic Analysis, The Gestalt Training Program of the Connecticut Center for Human Growth and Development and Reverse Therapy International. He was the initial program director of the Eastern Connecticut Family Medicine Residency Program in Manchester, CT., and an Associate Regional Dean and continues to be an Associate Professor of Family Medicine at the University of New England, College of Osteopathic Medicine. He has held many local and regional titles including past president of the Northeast Osteopathic Consortium and the Connecticut Osteopathic Medical Society.
Dr. Palermo utilizes a wide variety of modalities in his practice including traditional Allopathic and Osteopathic Medicine and Osteopathic Manipulative Therapy along with Bioenergetics, Gestalt, Reiki, Kairos, EFT (Emotional Freedom Technique), NLP (Neurolinguistic Programming), Reverse Therapy, various nutraceuticals, bioidentical hormones, transdermal pain remedies, and especially low dose naltrexone, while stressing the importance of prayer, meditation, positive affirmations, grounding, laughter, play, sleep, dance, nutrition, exercise, breathing techniques and promoting healthy relationships and community.
Dr. Palermo fully incorporates the Osteopathic Principles of the Mind-Body-Spirit Connection and that the awareness and integration of each of these areas is essential for the health of each individual. Dr. Palermo's approach to patient care is to look for the root cause of a patient's issues. And in this light often collaborates and consults with other evidenced based functionally trained practitioners.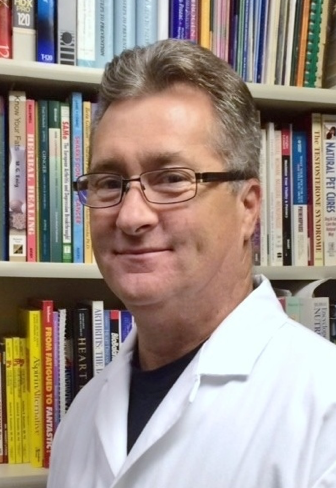 Eugene Gresh, R.Ph., FACP, IFMCP
Gene Gresh practices as a research/compounding pharmacist and functional medicine practitioner in Vernon, CT., where he owns and operates Pioneer Health Center.
Gene has been a registered pharmacist for over 43 years. He is a graduate of the Massachusetts College of Pharmacy in Boston.
In 1996, Gene obtained advanced training in the art of pharmacy compounding at Professional Compounding Centers of America (PCCA). Gene became a Full Fellow of the Alliance for Pharmacy Compounding (FACP) and later served on its Board of Directors for 6 years.
In Nov. 2005 he earned his certification as a First Line Therapy Practitioner.
In 2008 Pioneer Health Center was awarded the Therapeutic Lifestyle Center of Excellence.
In 2009, Gene began his studies with the Institute for Functional Medicine and in 2015 successfully completed his board exam to earn the prestigious IFM Certified Practitioner.
In 2013, Gene was awarded a faculty appointment by the University of New England College of Osteopathic Medicine, and he lectures on functional medicine and related topics for the Eastern Connecticut Family Medicine Residency program.
In 2017, Gene completed certification in "The Bredesen Protocol", a functional approach to reversing cognitive decline and Alzheimer' disease and is currently pursuing certification in Nutritional Genomics.
In 2021 Gene earned a certification as a Low Dose Naltrexone Specialist awarded by the LDN Research Trust.
Gene's practice is entirely non-sterile compounding pharmacy with a specialty in Bio-identical Hormone Replenishment, Pain Management, Low Dose Naltrexone (LDN), Nutri-genomics and Functional Medicine. He routinely consults with both patients and practitioners. Gene has written, published and lectured on many of these topics to physicians and patients throughout the United States.